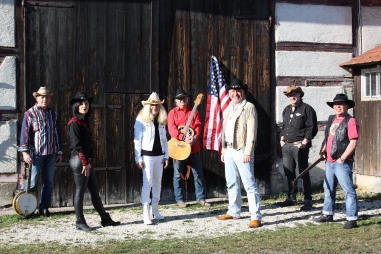 Musik
«Arizona Crossroads» das heisst nicht nur die weite Steppe von Arizona und den Staub im Gesicht zu spüren.
«Arizona Crossroads» heisst auch gute, handgemachte Country- und Westernmusik. Von traditionellen Kassenschlagern, also Oldies der Country- und Westernwelt, wie Merle Haggard bis hin zu moderner Countrymusik von Creedence Clearwater Revival gehört alles in das Programm dieser aussergewöhnlichen Countryband. Hierbei greifen wir nicht nur auf Bestehendes zurück, sondern haben auch einige eigene Songs in unser Programm integriert.
Das Publikum mitzureißen und das Flair von «Arizona Crossroads» dem Publikum nahezubringen, das hat sich die Band zu Ihrer Aufgabe gemacht.
Um einen Einblick in unser Repertoire zu bekommen, hier einige Auszüge:
Titel
Interpret
Amarillo by morning
George Strait
You can always come home
Alan Jackson
Al you ever do is bring me down
Mavericks
Ich möcht' so gerne mal nach Nashville
Western Union
Gypsy Woman
Don Williams
Detroit City
Bobby Bare
Deja vu
John Fogerty
It's so easy
Linda Ronstadt
Silver Wings
Okie From Muskogee
Mama Tried
Merle Haggard
Trying to get over you
Danni Leigh
Oh Lonesome Me
Don Gibson
Margaritaville
Jimmy Buffett
Help Me Make It Through The Night
Kris Kristofferson
Stand By Your Man
Tammy Wynette
Rose Garden
Lynn Andersen
Country Roads
John Denver
Ring of Fire
Folsom Prison Blues
Johnny Cash
Working My Way Through A Heartache
Marty Robbins
Rhinestone Cowboy
Glen Campbell
Proud Mary
Bad Moon Rising
Cotton Fields
Lodi
Who'll Stop The Rain
Have you ever seen the Rain
Creedence Clearwater Revival
Friends in Low Places
Garth Brooks
C'est la vie
Emmylou Harris
L. A. International Airport
Susan Raye
Neon Moon
Brooks & Dunn
I fell in Love
Every little thing
Carlene Carter
Jealous Heart
Silverwood
Kommende Auftritte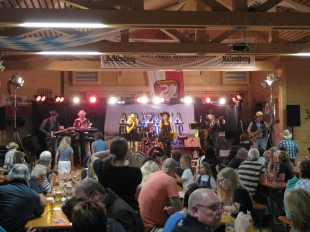 Coming soon...
Datum & Uhrzeit: Coming soon von/ab
Liebe Freunde,
nachdem wir in den vergangenen Wochen und Monaten zahlreiche tolle Auftritte - abschließend mit der Country-Tanznacht in Leipheim - spielen durften, stehen nun die Probearbeiten für die Tour 2019 an.
Parallel läuft unsere Terminplanung auf Hochtouren. Wir werden Euch die Termine für nächstes Jahr nun peu à peu hier einstellen.
Wir freuen uns bereits auf eine tolle Tour im kommenden Jahr!
Eure Arizona Corssroads
Ort: